 Our solutions
for BIM and Virtual Factory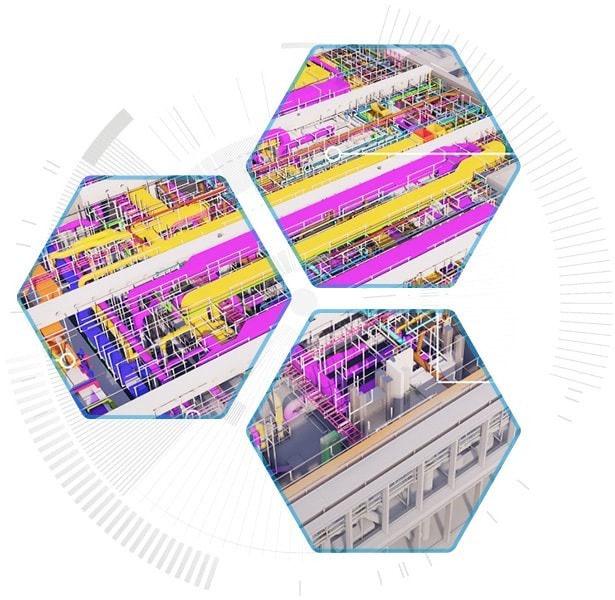 Pharmaplan's preferred method for the planning of a new facility is based on a Building Information Modeling (BIM) approach. BIM is our common infrastructure for working, sharing and innovating for all our Engineering projects. Our 3D database systems support our delivery in simple and agile ways. We implement one common toolset that gives us the option to do work-sharing across global borders in all our offices. All relevant building data are digitally recorded, combined and connected. The building is visualised geometrically as a virtual federated model and the information and space data are retained in a live database.
A BIM model can contain information and data on design, construction, logistics, operation, maintenance, budgets, schedules and much more. Information created in one project phase can be passed on to the next for further development and to be reused.
Based on our standards and experience we work side by side with our customers to create customer specific BIM requirements for every single project, defining the scope and the benefits of BIM utilisation. These benefits are enhanced when the process is considered as a whole and the information/data requirements are coordinated. Through the BIM approach, changes in all phases of the lifecycle of the building are immediately visible for all parties involved and the effects are synchronised immediately.
In the construction phases BIM is giving contractors an opportunity to clarify the design on top of the information once created, and to provide shared "live" data improving both time and costs (4D and 5D). All construction managers are enabled to track and control the complete construction progress by utilisation of augmented reality, integrated claim management and remote field applications.
Tools for BIM & Augmented / Virtual Reality are already part of our daily business and ensure seamless 3-D planning across all disciplines, minimise re-planning effort, enabling virtual design reviews and – if applied consequently – setting-up a digital twin of a facility.
As a General Planner our open BIM approach allows us to coordinate and establish the right communication between any stakeholders involved in a BIM environment, ensuring the success of a correct BIM Database implementation from the Conceptual Design until Facility Management activities.